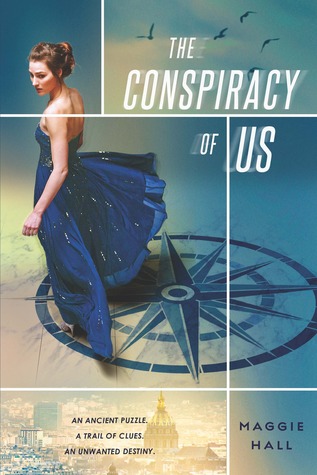 Title/Author:
The Conspiracy of Us (The Conspiracy of Us #1) by Maggie Hall
Publisher/Date published:
Putnam Juvenile, January 13th 2015
How I got this book:
bought it
Goodreads summary: Avery West's newfound family can shut down Prada when they want to shop in peace, and can just as easily order a bombing when they want to start a war. Part of a powerful and dangerous secret society called the Circle, they believe Avery is the key to an ancient prophecy. Some want to use her as a pawn. Some want her dead.

To unravel the mystery putting her life in danger, Avery must follow a trail of clues from the monuments of Paris to the back alleys of Istanbul with two boys who work for the Circle — beautiful, volatile Stellan and mysterious, magnetic Jack. But as the clues expose a stunning conspiracy that might plunge the world into World War 3, she discovers that both boys are hiding secrets of their own. Now she will have to choose not only between freedom and family - but between the boy who might help her save the world, and the one she's falling in love with.
So this was a book I read with my book club, which is awesome, but this book was a HUGE disappointment. I mean, wow, it was one of my most anticipated books of 2015 and it was just... BAD.
I mean, I still gave it 2 stars on Goodreads, but honestly, that's mostly because it's just hilaribad. It was so bad at times that it was hilarious and endlessly entertaining (though not in the way it was meant to be if I might guess) and it was fun to rant aobut it with my book club girls ;)
Where to start? There are just so many cliches/mistakes/just plain weird stuff that will make people cringe:
-PURPLE EYES. I mean, honestly, haven't we moved past this? And also, if purple eyes aren't speshul snowflake enough, she's the only GIRL with purple eyes. I mean. UGH.
-She has multiple boys chasing after her and doesn't know why, cause 'she's not beautiful'. I. Wow. Please show this girl how to work a mirror.
-A very disproportional body on one of the guys, whose feet touch the floor when he's sitting on a barstool. If he's not a giant, this doesn't work.
-Obviously you're not going to be recognized when you're on the run and you wear a big hat. Or start making out. I mean, OBVIOUSLY.
-Also, at one point it's mentioned that there are 12 hours in a day. *headdesk*
-Being soaked through after standing in the rain for all of 5 seconds.
I could seriously go on. And on. Which is what we did when discussing this at book club, but the point is: while these things were cringe-worthy, Maggie Hall did make me keep reading. I just kept hoping this would get better and the writing STYLE isn't the problem, but mostly the plot and the clichés that had been overused before this book came out.
Aside from one pretty steamy scene, I wasn't much rooting for the romance either, but wow, Maggie Hall is very much able to create the sexyness, but I would have liked to swoon for the boy before getting to this part. To be fair: there's not much happening beside maybe a kiss, but it was VERY sexy.
Basically what I'm saying is that this book was a bit of a hot mess, but it did have entertainment value. Just don't expect it to be the YA Da Vinci Code or anything, like it was originally marketed.
My rating:
1,5 stars