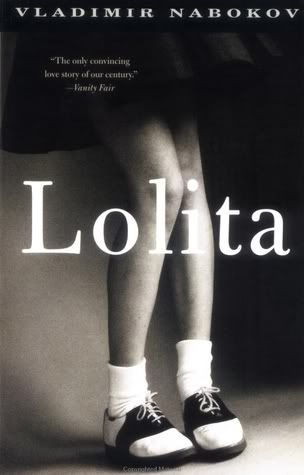 Title/Author:
Lolita
by Vladimir Nabokov
Publisher/Year Published:
1997 by Vintage International (first published 1955)
How I got this book:
It wasn't actually a book, but an audiobook (from the library, of course)
Why I read this book
: I saw the movie and was vehemently told that the book was extremely better
Rating
: 4 stars
There are few things more confusing than being serenaded by the lovely voice of Jeremy Irons when the content is the diary of a pedophile.
I feel like most people know what
Lolita
is about, but if not the summary is it is the confessions of a man, Humbert Humbert, as he tells of his emotional and physical relationship with 12 year-old Dolores, aka Lolita, as she grows into adolescence. I can hear some of you scoffing already. What could make anyone want to read about such a disturbing topic?
You have to be an artist and a madman, a creature of infinite melancholy, with a bubble of hot poison in your loins and a super-voluptuous flame aglow in your subtle spine (oh, how you have to cringe and hide!), in order to discern at once, by ineffable signs—the slightly feline outline of a cheekbone, the slenderness of a downy limb, and other indices which despair and shame and tears of tenderness forbid me to tabulate—the deadly little demon among the wholesome children; she stands unrecognized by them and unconscious herself of her fantastic power.
The writing. It is beautifully written. You would never think that you could get caught up in the mind of such a sick person, but you do. You're not really rooting for him, per say, but I definitely understood him most of the time. The author sums this up in the foreward,
"But how magically his singing violin can conjure up a tendresse, a compassion for Lolita that makes us entranced with the book while abhorring its author!"
I was very rarely taken out of the story, which is an unusual case for me with classics, but that may also have to do with Mr. Irons' performance. It was hard pressed to get me out of the car most nights, at least until I found a good stopping point. He voice embodies Humbert. It is like listening to a narrative movie, a production of a one man play.
If you're looking to tackle a book from the
1001 Books to Read Before You Die
,
Modern Library's 100 Best
or just want to read a book from a different perspective, Lolita is for you.
And I strongly suggest you get the audiobook with Jeremy Irons. It completely enhanced the experience for me for the better I believe. Any time you can get a little more Iron's in your life, you must jump on it! Now to go watch
The Lion King
...
I give this book 4 stars for pure can't stop listening enjoyment.