*Before we get started with TTT, have you seen that signups are open for our
4th annual Secret Santa
??*
To learn more about Top Ten Tuesday or see the future topics, click
here
!
Jamie's Picks

1. Another Little Piece by Kate Karyus Quinn
I don't have a problem with the cover itself (I actually think it's REALLY pretty!!!) but I want something a little gorier looking instead of this pretty girl there. Something to reflect the strangeness of this story!
2. Something Like Normal by Trish Doller
This is one of my most favorite books and the cover just makes it look like a romance (which I love) but this book is SO much more than this! I actually think it's a story some guys would dig but the cover totally is offputting to them. Travis is SUCH an amazing narrator. I don't know how I would redesign it but I would make it less of a kissing cover. Maybe the dog tag incorporated because I like that?
3. The redesigned Delirium series covers
I know these have already been redesigned but the face is just SO BORING. I would rather go back to what the old Delirium cover looked like. There's just nothing TO the cover here. It just lacks the spark and blends in with all the other face covers.


4. Any cover that doesn't reflect the MC -- like whitewashing or when it's an MC that is not a thin person yet the person on the cover is. I want them all changed.
Paula's Pick:
5. Everything Matters! by Ron Currie, Jr.
I am listing this as a case where a redesign was unnecessary. The original cover (on the left) is so much more eye catching to me. It was the one that made me pick up the book and go "hmm what's this..." where as I would walk by the redesign in a second. Which is a shame because I would walk by one of my favorite books without even giving it a glace.
6. Fahrenheit 451 by Ray Bradbury
This is a redesign that I wish were real instead of concept art. Artist
Elizabeth Perez
designed this cover of Fahrenheit 451 that I saw on tumblr that I wish I could actually own. Man oh man it's beautiful.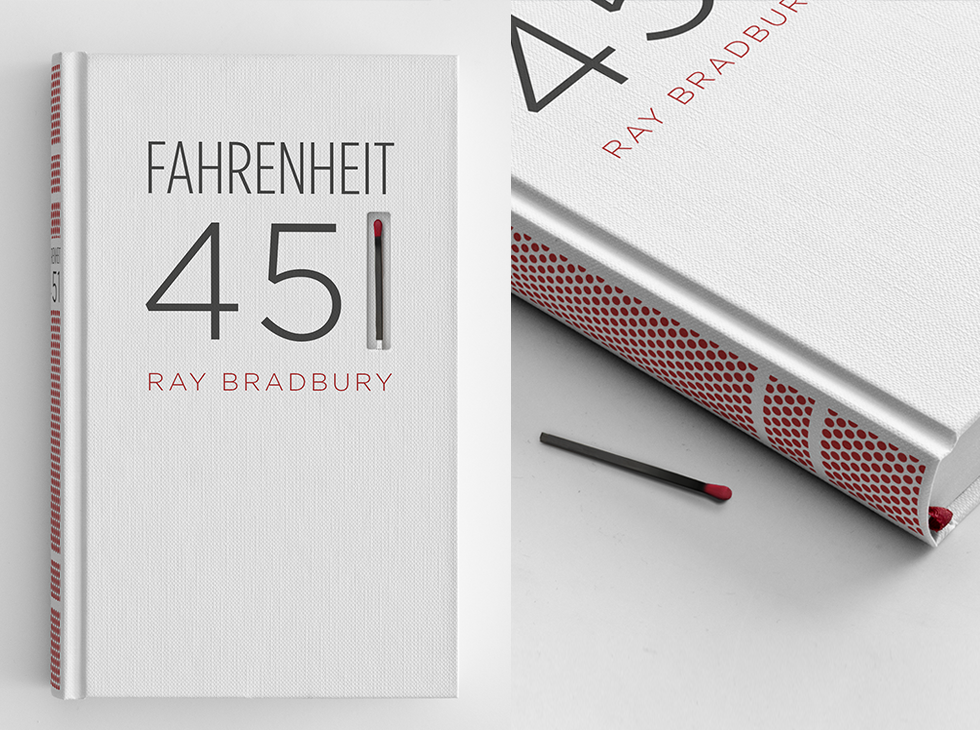 7. And while it's also not a "redesign" I would also love for the
Harry Potter series
to be released in a leather bound set. I have actually dreamed of owning one. And let me tell you how disappointed I was when I woke up and found that they are not a thing that exist.
There is concept art on the internet of House themed sets of the books. Come on JK do you know how many fans would buy these in a heart beat?
Let me have a Ravenclaw set pretty please!
Bridget's Pick:
8. The Casual Vacancy
I just find this cover kind of boring...I wish it had been something a little more engaging.
9. I also wish I could UN-redesign every book cover ever that shows a still from the movie made from the book when the original book cover was miles better (as it always is).
10. Tahleen's Pick:
I really hate this cover, especially because the book itself was so good. It's a historical fiction novel within a historical fiction novel; a girl in the 1960s travels back to the 1800s and is mistaken for a slave, even though she is white. Anyway, I think this cover probably has turned off at least a few people.
Do you agree with any of our picks? Disagree? Which ones do YOU wish you could redesign?