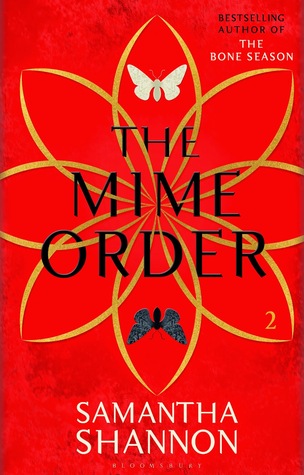 Title/Author:
The Mime Order (The Bone Season #2) by Samantha Shannon
Publisher/Date published:
Bloomsbury, January 27th 2015
How I got this book:
borrowed it from my friend
Debby
, as she was lucky enough to get an ARC!
Goodreads summary: Paige Mahoney has escaped the brutal penal colony of Sheol I, but her problems have only just begun: many of the fugitives are still missing and she is the most wanted person in London.

As Scion turns its all-seeing eye on Paige, the mime-lords and mime-queens of the city's gangs are invited to a rare meeting of the Unnatural Assembly. Jaxon Hall and his Seven Seals prepare to take center stage, but there are bitter fault lines running through the clairvoyant community and dark secrets around every corner.

Then the Rephaim begin crawling out from the shadows. But where is Warden? Paige must keep moving, from Seven Dials to Grub Street to the secret catacombs of Camden, until the fate of the underworld can be decided. Will Paige know who to trust? The hunt for the dreamwalker is on.
Ok, first off: have you read The Bone Season? If not, why not? Cause you should. You should probably stop what you're doing right now, including reading this post and go read it. Just go. Go and be blown away by the awesomeness of Samantha Shannon's writing.
So now that we've got that established. Let's move onto me telling you exactly why you should be hovering around your mailbox on January 27th or stalking your bookstore or whatever method you decide on to get your hands on The Mime Order:
-While The Bone Season had a whole lot of info-dump in it (which I was ok with, because hello amazing worldbuilding!), The Mime Order doesn't and it just builds and expands on this knowledge we've gathered in The Bone Season and it was AWESOME. I love re-immersing myself in this world and the characters and just gloriously revelling in Samantha Shannon's beautiful words.
-Paige grows and grows as a character and she's just this strong, badass person who isn't afraid to make hard choices and fights for what she believes in and actually has a LOT of common sense and just, I love her ok?
-WARDEN! I can go all caps on him because he's AMAZING and just LOVE! We read The Bone Season with our book club and all three of us who were there to discuss the book just went *sigh* after someone mentioned him. He's very swoonworthy and he becomes even more so in The Mime Order. Also, the chemistry he and Paige have is just wow. It is SO good.
-THAT ENDING!!! Basically I have ALL THE FEELS and I had some serious book hangover after finishing this and even though I slightly saw it coming I was still like WHATTTT??
So go forth and covet this book. I'm DYING for the next one!
My rating:
5 stars