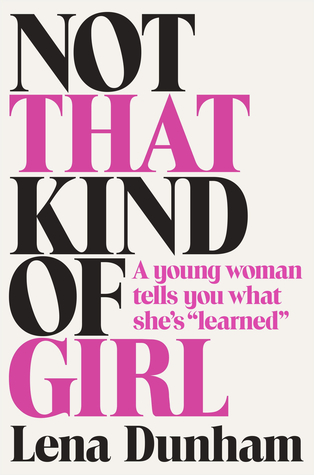 Title:
Not That Kind of Girl: A Young Woman Tells You What She's "Learned"

Author:
Lena Dunham

Publication Information:
October 2014 by Random House

How I Got a Copy of This Book:
I pre-ordered an ebook copy...then I had to buy a hard copy because of reasons.



Goodreads Synopsis:
"There is nothing gutsier to me than a person announcing that their story is one that deserves to be told," writes Lena Dunham, and it certainly takes guts to share the stories that make up her first book,
Not That Kind of Girl
. These are stories about getting your butt touched by your boss, about friendship and dieting (kind of) and having two existential crises before the age of 20. Stories about travel, both successful and less so, and about having the kind of sex where you feel like keeping your sneakers on in case you have to run away during the act. Stories about proving yourself to a room of 50-year-old men in Hollywood and showing up to "an outlandishly high-fashion event with the crustiest red nose you ever saw." Fearless, smart, and as heartbreakingly honest as ever,
Not That Kind of Girl
establishes Lena Dunham as more than a hugely talented director, actress and producer-it announces her as a fresh and vibrant new literary voice.
My Thoughts: Full disclosure--I'm not done with this book yet. But I needed to write something so that I could spread the word. Unless you've been living under a rock, I'm sure you've heard about this book of personal essays. There have been a lot of great things written about it and there have been some pretty bad things written about (in my opinion, these things have been said by people who have no stinking clue what it's like to be a female in their mid-20s in the 21st century so really ought to stop speaking...anyway! moving on!).
The book is broken into five sections--Love & Sex, Body, Friendship, Work, and Big Picture. I've read the first two sections and part of the third. Dunham writes so intelligently on these topics because duh! she's lived them. She shares her experiences and infuses them with humor. She constantly makes me exclaim "Oh my goodness! My tooooooo!" I've seen a number of friends or people I follow on Twitter comment on how her stories are their stories. It's great to see someone to whom you can relate so closely.
The book reads like a no holds barred conversation with one of your best friends. With alcohol that magically doesn't give you a hangover. I don't know what exactly that means, but it sounds like the right thing to say.
Dunham's writing has made me feel more comfortable in my own skin, which makes the book priceless in my opinion. I really like the way this book fits into the current conversations about feminism and what it means to be a female in the twenty-first century, a la Caitlin Moran (another book of essays I can't wait to sink my teeth into!).
I would highly recommend this book. But, I must admit, it's not exactly for the faint of heart. So if you aren't up for a frank conversation about love & sex and the female body, better hold off (but really work hard at trying to become ready for that conversation because this book is just too great to miss!).
I'll definitely be back with full thoughts once I finish the book.