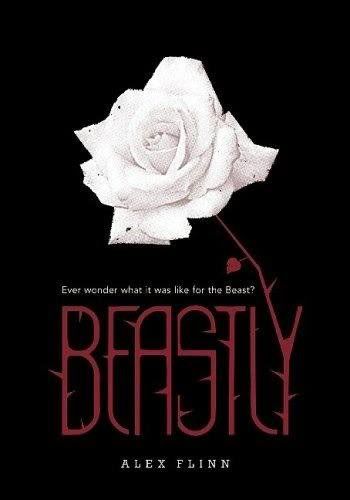 Title/Author:
Beastly
by Alex Flinn
Publisher/Year Published:
2007 by Harper Teen
How I got this book:
The Library
Why I read this book:
Saw a trailer for the movie coming out, thought I would read the book.
Rating:
4 stars
I stumbled into a trailer for a new movie coming out in March called "Beastly." Upon doing a bit more research I discovered that it was a book first, as it usually is, and decided to read it. Two things sold me on this book from the relative get go: one, it's a retelling of one of my favorite Disney movies* "The Beauty and the Beast", and two, it's told from the Beast's perspective.
The book does a great job of modernizing the Beast's tale. One of my favorite highlights is the chat room group for mythically affected teens. But besides the obvious of updating the scenery to the 21st century perspective, the actual Beast transformation is really believable. The magic of the tale balances well with the modernity. There is a great story arc that isn't too sudden or unbelievable. He starts off quite unlikable actually, but the promise of his transformation is enough to spur you past his childish special snowflake syndrome.
One side comment that really has nothing to do with my review but I've read quite a few YA novels this year that have novels told from 1st person point of view. Why is that, I wonder? As a general rule, I dislike first person narrative because it limits what I can know about other characters. I learn a good deal about the main character but the secondary characters suffer. I concede that sometimes first person works well, I thought it was great in The Hunger Games, but it's just not my favorite. I'm curious to what opinions you guys have on POV. First person: love it, hate it, can't live without it?
Anyway, back to
Beastly
. While it does a good job with the modernization while keeping all the essential elements, it was missing something that would push me into 5 star territory. It just didn't have that extra kick. Is it a great read? Yes. Would I recommend it to anyone who likes the tragic romance of Beatuy and the Beast? Hell yes. Is it a book I would read again? Probably not. But it was definitely worth the read. And I'll probably go see
the movie
when it comes out in March. If only for Neil Patrick Harris.
*I know it's a fairy tale, but I am more familiar with the Disney version. I am still plowing my way through The Brothers Grimm ... then comes Hans Christian Anderson ... then I'll do the more famous ones I have not hit (like this French tale!)
Trivia! The second most familiar Beauty and the Beast version for me? The TV show from the late 80s. Oh, Vincent...