As a blog run by college aged kids, the thing most on our minds, aside from books, is what the heck we are going to do with our lives. We all joke and dream about having a job where we could read or blog all day and feel pangs of jealousy when we encounter someone who does just that. In my (Jamie's) job search, I've realized that there are so many different types of bookish jobs out there that I had never even thought about. In college I never thought I could be in the book industry because I never wanted to be an author or an editor or a publisher. I didn't think there was anything else out there. I've come to realize that there so many types of bookish jobs out there for people of varying strengths and abilities and I want to spotlight these jobs... and thus began our feature--Bookish Jobs for Bookish People.
Hey everyone. Julia here. Today we are going to switch up this feature just a little bit and feature someone quite close to my heart, my younger sister Rosie. Rosie is just starting her senior year of college and thus that dreaded job search is impending, but throughout her college career, she has been lucky enough to be surrounded by books in her student job at the campus library. Today we feature:
Rosie, the student librarian
.
Job Title:
I don't really have a title. But I am the only student worker in the cataloging department at my university.
What is your major?
Japanese with a minor in business administration and multiage education.
How long you've been in this position:
Since I was a freshman, and I'm now a senior. I also work a few days a week over the summer.
How did you get the position? How hard was it to find?
Early on, I applied for a position at the library, and they pretty much told me that I'd be working in the cataloging department.
Describe what a typical day looks like for you:
Well, it can be pretty open-ended. I have a list of things that need to eventually get done. Most of the time it consists of labeling new books for the reference desk or circulation department; relabeling old books; changing books to a different call number; fixing discrepancies, like if I am going through the card box and I find that something has the same call number, then I go and change one of the books; sorting and organizing the card catalogue; and jacketing books that need it. And labeling juvenile books. And repairing old books. I do a lot of stuff. Plus, currently we are moving books to different departments so there is a lot of relabeling.
Wait, did you say card catalogue?!
Yes! It's not open for students to use, but it is still actively used for the records in the back. It's a good idea.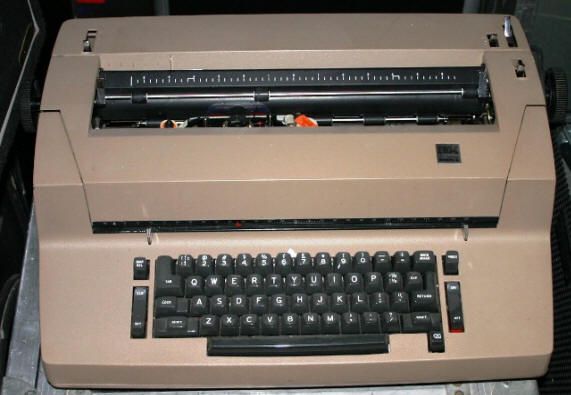 Three qualities/skills you should have to excel at this job are:
Organization, patience, listening comprehension… oh and learning to use a typewriter. I regularly use my IBM Sectric Typewriter. Changing the ribbon is fun… not.
What is your least favorite aspect of your job?
Uh… What do I not like? The fact that book jackets pile up very quickly, meaning I will do ten book jackets and then there will be thirty more. There is always a book needing a jacket.
Biggest perk of your job:
The flexibility during school time. I can work to my schedule. And the fact that the people I work with are awesome.
Tell us one of your best or funniest memories on the job:
One of the people I work with likes Dunkin Donuts, so she brings in coffee and doughnuts once in a while. The Chai Tea used to keep me awake during my accounting classes. Saving grace.
What do you think the biggest misconception is about your position/industry at a college library?
That it's boring. A lot of people, especially guys from what I have seen, get bored quickly. I think it's fun! We have a good time. I think is easy to multitask; I can talk about school while labeling a book. It's not just stuffy people sitting behind a desk all day. It's people doing something they like and having fun doing it. It's good wholesome work that is flexible and fun.
Complete this sentence. This job is not for you if...
you get distracted easily.
What advice do you have for people who are interested in working in the library in college?
Apply quickly. This really applies for any college job. There are a ton of students all looking for the on campus work. If you don't apply quickly, you don't get a job. The end.
And now let's end on something fun! Our Top Ten Tuesday this week was 'Book Characters You Would Switch Places With for 24 hours'. Which book character would you switch places with?
Hermione Granger, because I would get to learn about awesome, smart, cool Harry Potter things.
Thanks Rosie, for stopping by and sharing your college library work experience. Check out the other Bookish Jobs Post: Erica from Harper Perennial: Marketing Manager, Jen: Children's Programmer, SR. Library Assistant, and Tom from Harper Teen, Book Designer.