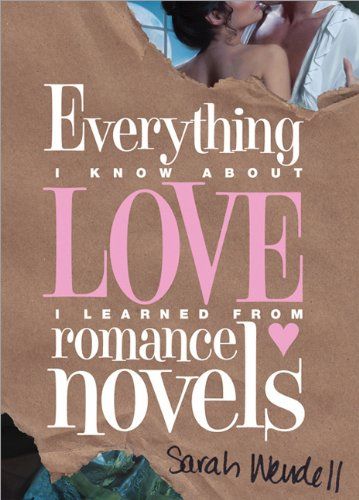 Title/Author:
Everything I Know About Love About Learned From Romance Novels by Sarah Wendell
Publisher/Year Published:
October 2011 by Sourcebooks Casablanca
How I got this book:
From my local library
Why I read this book:
I read a lot of romance novels and the title is pretty much out of my mouth
Rating:
5 stars
I read my first romance novel right around the age of 12. My cousin gave me some to read that she had gotten through various ways. She said they were really good books I would like them. 13 years later and I am still reading romance.
As a self-professed bookaholic, people often times give me a lot of condecension for my choice of reading. When I tell people that I read 72 books in 2010 and 49% of them were romance I often get "Well those don't count." or "It's just chick porn."
This really frustrates me. Just because it is a book that is heavily focused on romance means it doesn't count? I picked up
Everything I Know I Learned from Romance Novels
hoping to get some more amo to throw at these people, but what I found was a group of stories and lessons that were enchanting and eye opening.
Everything I Know About Love
was written by Smart Bitch Sarah over at
Smart Bitches, Trashy Books
, a site I often frequent. She often asked readers while she was writting to contribute anecdotes, as well as other authors and publishers. What she collected was a chain of stories about people and their relationship with romance. It was really interesting because not only did I realize what other people have taken from reading romance, I realized that a lot of that applied to me as well.
What I Learned From Romance Novels:
Don't to settle for something less than I am worth.
Though men are not romance heros, the romance heroes have qualities (like kindness and the ability to listen) that real men can have.
It's not a problem to embrace sexuality.
The happily-ever after is not the interesting part. It's how you get there.
I don't expect someone to ride up beside me, sweep me off my feet onto their white horse and tell me they've wait for me forever. I do expect trust and communication, understanding when something happens when life isnt always perfect, someone who will love me faults and all.
For me romance has been an escape, a roadmap to relationships, a way to discover myself to just name a few. What this book really solidified in me is that I don't care that other people may think less of me for reading romance. They dont know what they have taught me. I know that I will be a better friend, lover, woman, and person for reading them.
As for the book, you hear a lot of stories like this neatly divided into sections. If you dont read romance but have wondered why so many flock to it. Pick this up. It is quick and fun to read. It took me one 4 hour flight.
I am not sure how to end my review/personal outpouring. I guess I'll end it with this. Never feel guilty for reading something. A book can mean anything to anyone. :)