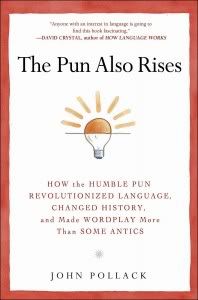 Title/Author:
The Pun Also Rises: How the Humble Pun Revolutionized Language, Changed History, and Made Wordplay More Than Some Antics
by John Pollack
Publisher/Year Published:
2010 by Gotham
How I got this book:
It was provided to me by the publishers through TLC Book Tours
Why I read this book:
I love words and languages and how they evolve. Puns never really interested me until I read the title of this book and thought "That's a good queston"
Rating:
4 stars
Summary
What do the following have in common: Ben & Jerry's Cherry Garcia ice cream, Disney's recent movie Gnomeo & Juliet, London wine bar "Planet of the Grapes"?
They are all puns…which usually elicit either a quick chuckle or a loud groan. We are surrounded by puns. Be it the name of a store or movie, a headline in a newspaper, and advertisement on a billboard or characters in books and TV shows, puns show up every day. In some ways, we are experiencing a pun renaissance.
The Pun Also Rises
is the definitive account of the humble pun, its history, and why punning still matters.
Author, John Pollack – a former Presidential Speechwriter and winner of the O. Henry world pun championship – will lead you on a remarkable journey through time, culture and language. Rich with anecdotes, history, pop culture, neuroscience, literature, anthropology and humor, this book will inspire every reader to reconsider what they think they know about puns.
Thoughts
:
When I was contacted by
TLC Book Tours
about reading a book about language, I jumped at the chance. I love language. Everything about it intrigues me, including puns. I'm not going to lie. Before I started reading this book, when someone said "pun", I would think of the jokes that come on popsicle sticks. And yes, I would be one of groaners sometimes. But the interesting thing about this book is it leads you more into the depths of puns.
I learned a lot reading this book. A good number of the words I would not immediately recognize as puns are actually puns. Pollack does a good job at explaining in an interesting way why a pun is what it is. Each chapter highlights a different aspect with the biggest chunk being on the history. There were a few parts that I kind of glossed over as slightly repetitive and sometimes the order of how things were presented gave me a puzzled look, but overall I spent many a plane flight learning about puns.
The funny thing is, after reading this book, I have started using puns more. Sometimes I get the groans from others, but I don't care to much as they amuse me a great deal. (Though now that I have said that I am trying to think of a good pun to put in this review, but after about 5 minutes of staring I have come up empty. Sad. I would not win the O. Henry championship.)
So here is my recommendation. If you like language, like learning about little known facts about words or speech in general then you will really like this book. It doesn't read too academic, so no need to be put off there.
The Best Part
: The publisher is offering one lucky winner a free copy of the book! If this book interests you, just leave a comment with your email address. The winner will be drawn
Monday, May 2nd.
I will contact you for a mailing address. The book will come directly from the publisher. US/Canada only please.