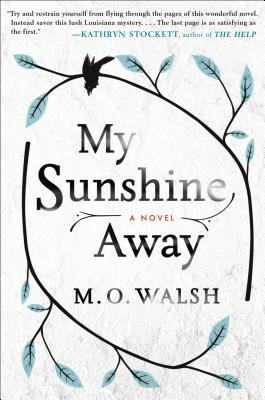 Title:
My Sunshine Away
Author:
M.O. Walsh
Publication Information:
February 2015 by Amy Einhorn Books
How I Got This Book:
I bought a copy on my Kindle app.
Goodreads Synopsis:
My Sunshine Away
unfolds in a Baton Rouge neighborhood best known for cookouts on sweltering summer afternoons, cauldrons of spicy crawfish, and passionate football fandom. But in the summer of 1989, when fifteen-year-old Lindy Simpson—free spirit, track star, and belle of the block—experiences a horrible crime late one evening near her home, it becomes apparent that this idyllic stretch of Southern suburbia has a dark side, too.
In
My Sunshine Away
, M.O. Walsh brilliantly juxtaposes the enchantment of a charmed childhood with the gripping story of a violent crime, unraveling families, and consuming adolescent love. Acutely wise and deeply honest, it is an astonishing and page-turning debut about the meaning of family, the power of memory, and our ability to forgive.
My Thoughts:
Wow. A Twitter friend mentioned this book and I bought it immediately because I trust her taste. Only partway through, I began brow-beating
another friend
into reading this one, encouraging her to abandon her current read and start immediately. Finally she relented and
she thanked me for it
. I think. I'll just say she did because I know she liked the book, so on some level she did thank me.
This has the elements of a thriller--in the opening pages a teenage girl is raped right down the street from her home and the narrator tries to figure out who did it--but it also is a wonderful, beautiful bildungsroman about growing up and life changing and becoming more complicated that we can all relate to. The real story is the narrator's personal development from a boy firmly ensconced in his little suburban home to a man who has faced some real challenges and changes and comes out the other side.
My heart broke a number of times throughout this novel, at big and small moments. The end left me feeling weird and utterly destroyed, yet somehow hopeful and wistful. For me, it was the same feeling I get at the end of
To Kill a Mockingbird
. I felt completely alive, but also somehow detached from my real world. Somehow I was able to drive to Chipotle and back in a fantastic haze.
This is a book I still think about and carry with me.
I cannot wait to see what else Walsh produces.
An utterly amazing read.
A new favorite for me.
Go buy it. Now!