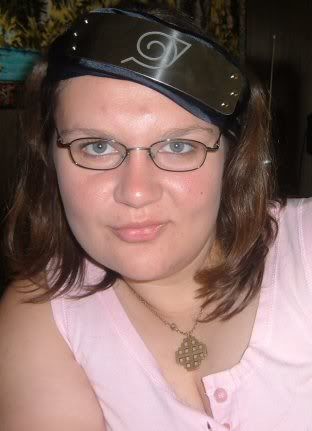 Me in 2005 post anime convention.
Oh, youth.
I've been a blogger a long time. Over a decade. There could be a VH1 special about me. I love the Bloggers: Julia. Anyway I've been busy and not-reading lately instead using my free hours to binge watch Friends or take part on a softball team, but I wanted to sort of do a nostalgic post looking back on things and then hopefully having you all do the same in the comments. If this isn't your thing, thats cool. Your regularly scheduled programs will be back again next time :)
Back when I was just getting into the internet, I made my first website in Geocities at age 13. I didn't really turn it into an active blog-like diary until I was sixteen or so. There were four or five of us that had a little ring of online diaries that we would all read. So like the stepping stone between writing things down in an actual journal and the Facebook posts of today that everyone can see.
Since those days, in some venue or another, I have been sharing my thoughts with the world. From Geocities to LiveJournal to Goodreads to Blogger to Booklikes. It's crazy to think it all started with a page that I called "Dont Feed the Ducks" and had a script attached to it so as you moved your mouse a trail of ducks would appear. Typical 90s internet.
When I recently found a log of my first site I found it actually had little paragraph reviews of books I loved. I did a lot of fan-girling and I am pretty sure I used up my exclamation limit for the year on that one page, but how fun to know that even starting out, before sites like Goodreads were popular, I was wanting to share my favorite books with the world.
When I moved to LiveJournal I apparently didn't review books much, but I didn't read as much in college outside the curriculum until really my super senior year. But even then I still had tags for 'books', 'reading', 'rom-novs'. Primarly though, time was spent in the Harry Potter fandom and bitching about college. It was so fun though to go back and find my reworking of the lyrics of the song
Everybody Ought to Have a Maid
from the musical
A Funny Thing Happened on the Way to the Forum.
I reworked it into
Everybody Ought to Have a Snape
in a few hours after my friend said I couldn't do it.
Me in the summer of 2007, complete with modified
duckface and MacBook photobooth filters
Then came Goodreads. I was on there waaaay back when it was just like a singular feed. You didn't have friends, just saw what everyone was reading. I remember scrolling past the popular ones and just looking at what was added recently to try and find new and interesting books. The bookshelves never really changed though.
It was a while before I started doing real reviews on there, I am not quite sure what drove me to writing reviews. Maybe the fact that I found some of them, especially the well balanced ones, helpful in figuring out if a book was to my taste. I still to this day find the most use out of a three star review or a negative review because that I can see what the person didn't like and if it would bother me at all or is something that would make me actually enjoy it.
Reviews led me to groups which led me to the College Students group which led me here. I wont go too crazy and keep typing because if you've read this far I commend you. We are coming up on five year of this blog in a few months. Can you believe it's been that long? I guess my nostalgia just came a bit early this year.
Join in the nostalgic fun! How long have you been blogging or part of the blogging community? How about the book part of it? Got any good stories from your early internet years? Join in! Or just read!

Enjoy the weekend!