For future Top Ten Tuesday topics & info on how to participate, click here!
We've talked favorite childhood books and the ones you WISH you read as a kid a while ago on Top Ten Tuesday so we figured it was high time to talk about the ones we would want to revisit.
Tahleen's Picks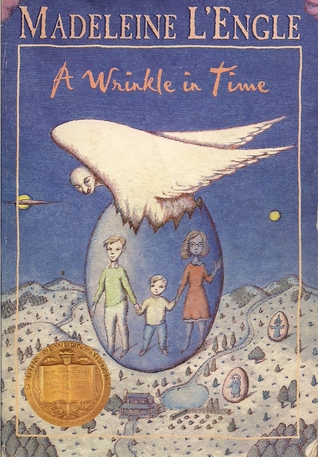 1.
A Wrinkle in Time
by Madeleine L'Engle and the rest of the Time Quartet. Every once in a while I feel the urge to reread this classic, beloved by me and many other readers out there. I feel like I gain something new each time, and it's like catching up with an old friend.
2. The
Sammy Keyes series
by Wendelin van Draanen. I started reading this series in 6th grade, and I still love it. It has been a while since I read one of them, though, and it might be time for me to pick up where I left off.
Bridget's Picks
3.
The Baby-Sitters Club
series by Ann M. Martin (and various ghostwriters). I
loved
these books growing up; I actually read them well into high school as a break from the drudgery of school when I needed something mindless and easy. If I could find my old collection I'd totally read them again.
4.
Nancy Drew
!! I used to read the crap out of these—and my love of them was actually inspired by Claudia Kishi's collection in
The Baby-Sitters Club
. I would read these too if I could find them; I don't know what happened to my collection, unfortunately, but I had a whole bunch of them!
Jamie's Picks
5.
The Bell Jar by Sylvia Plath
: I read this book my senior year and I'd love to revisit it. It was the kind of book I read at the right time and it saved me.
6. Catcher in the Rye by JD Salinger: I LOVED THIS BOOK AS A TEEN. I want to know what adult Jamie would think. I also want to reread Franny and Zooey but that was a college read so technically doesn't fit!
7. The Boxcar Children series: I LOVED THESE BOOKS. SO MUCH.
8. The Crucible by Arthur Miller: I remember loving this in high school and I wonder if it was the book or the amazing English teacher I had.
9. Blubber by Judy Blume: I loved all Judy Blume's books but I remember this was the first one I ever read.
10. Sweet Valley High books: I LOVED THIS SERIES. I read it as a pre-teen and wanted to live in those books.
Tell us YOUR favorite childhood faves that you would love to revisit!