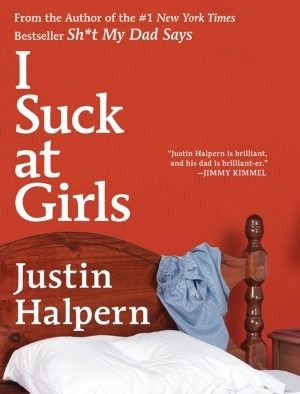 Title/Author:
I Suck at Girls by Justin Halpern
Publisher/Year Published:
May 2012 by HarperCollins
How I got this book:
The publisher provided the book freely for a honest review
Why I read this book:
Sh*t My Dad Says
was a hilarious book.
Rating:
5 stars
The one thing that I have to say about Justin Halpern is that he can write a memoir. His first book,
Sh*t My Dad Says
, was based on growing up with a dad that speaks his mind regardless of how it comes off to the rest of the world. The result is a few hours of fun and barking laughter and getting a glimpse into their father son relationship.
I Suck at Girls
has more of a Justin centric focus as he talks about his life with women and sex. His dad features a few times, all times bringing the wit we remember from the first book, but really the focus is Justin's journey with girls. This book is also told in memoir form with each chapter being a different part of Justin's life.
It's hard not to compare this to the last book, and I am not going to try. While Sh*t My Dad Says was more anecdotal with loose connections to each chapter, this book has the feeling of a complete journey. You can see how each chapter in his life builds upon his past experiences sometimes calling back to something he had learned earlier in life and thus the book. While this book still had doses of humor in it, the overall plot is more his journey and less life lessons.
The experiences he has vary from hilarious to poignant (and sometimes both). I think the other book was a little bit more laugh out loud funny, but this one does not lack humor. Justin is a great character in his own life, and he has had interactions with a lot of interesting people. I really want to tell people my favorite part of the story (involving a secret cave… literally. No, that is not a euphemism), but I don't want to spoil anything. You'll just have to go out and read it for yourself!
If you are sensitive to swearing and sexual, well everything is pretty much in here, and this may not be for you. But if not and you are looking for a quick, heartwarming and laugh out loud funny read about one man's journey with sex and women, pick this up. I highly recommend it.
PS: I love the cover design of this book and how they made it so closely designed to the cover of the first book. If I just saw this cover, I would pick it up thinking it had to do with the other book, and I would be right. So A+ marketing/design team.