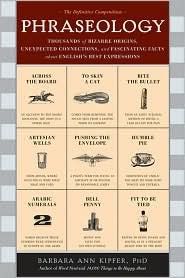 Title/Author:
Phraseology:Thousands of Bizarre Origins, Unexpected Connections and Fascinating Facts about English's Best Expressions
Publisher/Year Published:
2008 by Sourcebooks, Inc.
How I got this book:
eBook for my Nook, then in book form from the library.
Why I read this book:
I love learning trivia about language, yet I know little English language trivia
Rating:
3.5 stars
If you recall from the Top Ten Tuesday featuring
Books I Hope to Santa Brings
I had my pick be
Phraseology
. Here is what I had to say:
I normally do not like to own books unless I know I am going to read them over and over, but in this case if this book is what I think it is (a font of awesome knowledge of English) I would want it on my shelf. One of my more recent pastimes has been filling myself with Jeopardy like information. This book would not only add to that store, but give me more fun facts about a language that I've spoken my whole life. Because seriously, who the hell doesn't want to know where some of those bizarre phrases came from? I mean I just learned from reading the back that "best man" is an allusion to the best man to help capture you a wife. How interesting.
Well now that I've perused the book, I've come to realize the dictionary-esque reality of the book. This wasn't really what I was expecting. I thought it would be a little less... alphabetical and a little more topic organized. Still it is occasionally the font of some interesting tidbits. For instance, let me just open the book to a random page. Ah! Fell into the I's. We have these following entries:
iceburg lettuce got its name from the fact that California growers started shipping it covered with heaps of crushed ice in the 1920s; it had previously been called crisphead lettuce.

iced tea is the correct form and will probably not change the way iced cream and iced water did.

an idiot card is another name for a cue card

if I were is the correct form when one is referring to a conditional future event
This give you a taste of what you can find approximately 20 per page on 300 pages. It's really interesting trivia, but not something you can sit down and read. Saying as much, I've not actually finished it, but am enjoying reading it in small bites.
I especially like having this on my Nook so I can read this when I don't have too much time to commit to reading; in line at the store, for example. If I get pulled away from what I am reading, it doesn't matter because it's a short sentence of knowledge and I can pick up right where I left off without feeling as if I've left the world I was involved.
In conclusion, a great trivia book filled to the brim with random knowledge. I really think this would make a great coffee table book!