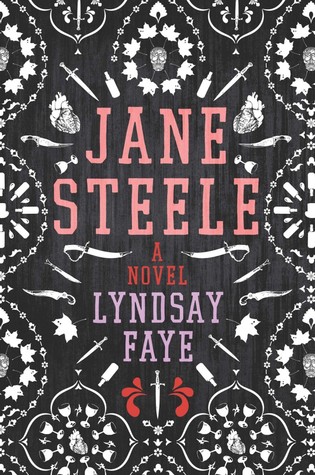 Title/Author:
Jane Steele by Lyndsay Faye
Publisher/Date published:
G.P. Putnam's Sons, March 22nd 2016
How I got this book:
received it from the publisher as an egalley, thanks!
Goodreads summary: "Reader, I murdered him."

A Gothic retelling of Jane Eyre.

Like the heroine of the novel she adores, Jane Steele suffers cruelly at the hands of her aunt and schoolmaster. And like Jane Eyre, they call her wicked - but in her case, she fears the accusation is true. When she flees, she leaves behind the corpses of her tormentors.

A fugitive navigating London's underbelly, Jane rights wrongs on behalf of the have-nots whilst avoiding the noose. Until an advertisement catches her eye. Her aunt has died and the new master at Highgate House, Mr Thornfield, seeks a governess. Anxious to know if she is Highgate's true heir, Jane takes the position and is soon caught up in the household's strange spell. When she falls in love with the mysterious Charles Thornfield, she faces a terrible dilemma: can she possess him - body, soul and secrets - and what if he discovers her murderous past?
So OBVIOUSLY I was excited when I saw the summary for Jane Steele because HELLO, I have so much love for Jane Eyre and to have this be inspired by it, but with a murderous Jane, I just could not resist!
And I'm so glad I picked this up, because it was SO GOOD! I mean, wow, I was a bit anxious when I started it because of said love for Jane Eyre, and the fact that I was wondering whether or not I would be able to connect to a character who murdered people, but I ended up very much loving Jane Steele as a character and I'm really glad that it wasn't just mindless killing but I could understand why she did what she did. And in some cases I definitely cheared her on because holy wow, EVIL people!
Jane definitely has a hard life, it starts with a less than ideal childhood, a complicated family situation and then boarding school, which as in Jane Eyre, is just not run by nice people. I cannot even begin to imagine how you can get out of something like that and still have a shred of humanity left in you, but Jane managed. And in the hardships she makes a friend, but then they flee together and things go South again after that. Which is how she finally ends up at Highgate again and the real fun can begin because YES I SHIPPED IT!
I mean, I love Jane for her strength and her loyalty and that she's willing to just do anything for the people she loves and has a strong sense of what is right. And when she met Mr. Thornfield, Sardar Singh and Sahjara, I was just happy that she was finally with people who appreciated her, and Sahjara is an adorable little girl who has been through a lot, it made my heart happy to see her and Jane interact.
But now let's talk about Mr. Thornfield: I totally adore this man. He has this amazing big heart and sees all the good in Jane and her flaws and just takes it all. I loved his sardonic humour and the way he is with Sahjara, because you can just feel his love for the people at Highgate shining through in the thing she says. I loved that he and Jane both have dark things in their past, but together they find a way to deal with them. Basically, they were just better together and I totally shipped it and wanted to yell JUST KISS ALREADY and had tears in my eyes and just ALL the feelings.
So yes, I'd definitely recommend you read Jane Steele. I love the voice that Lyndsay Faye gives Jane and the whole mystery surrounding Highgate and Mr. Thornfield. And I had lots of feelings over the romance and the ending totally made me smile because what Jane describes must be the best feeling ever!
My rating:
5 stars