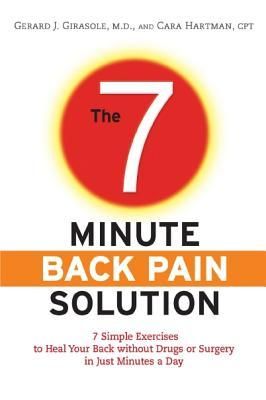 Title/Author:
The 7-Minute Back Pain Solution: 7 Simple Exercises to Heal Your Back Without Drugs or Surgery in Just Minutes a Day by Dr. Gerard Girasole, Cara Hartman
Publisher/Year Published:
March 2012 by Harlequin Nonfiction
How I got this book:
NetGalley
Why I read this book:
I have significant back pain; I am the audience
Rating:
5 stars
Everything that you need to know about what is inside this book is in the title. Ah, organic pain solutions. I have been looking for you. But before we jump into my review, here is a little back-story. (Ha! A pun. We all know that
I love those
)
For the entirety of my collegiate career which spanned five years and now the two years since then I have had lower back issues. Disks bulging, a narrow spine, intense nerve pain, all fun stuff. I am still on pain meds and have had shots in my spine to numb the nerve in my leg, mostly to facilitate walking. For a while I have been looking for a mostly natural solution to the pain I live with. Then I saw this book.
As soon as I was approved for this galley, I laid down on the floor and tried the basic stretches. I was cautiously optimistic and assuming it wouldn't give me too much relief the first go round. I was surprised when after gently pulling and stretching my muscles with exercises I vaguely remembered from physical therapy I felt a small amount of relief.
I read on and tried over a course of a few months the exercises in this book. I am still surprised how much they helped me, especially the stretches. I'd wake up in the morning too stiff to move, do the stretches I could, and then be able to get out of bed. It's pretty awesome.
This book isn't all stretches and exercises though. My favorite part was the different sections on life experiences. For instance, there was a whole section on how best to deal with your back during airplane travel, or driving, or working, or bathing! I liked being able to flip to the relevant section for me and check out the suggestions. There were some helpful tips.
I really enjoyed this book and plan on buying it to have as a reference guide for whenever I may need to look something up. The stretches in this book I have already incorporated into my every day life and I don't see those leaving anytime soon.
Though this may not apply directly to you, I figured our readers here would probably know someone with some back issues. Or even if you just wanted to learn some great back stretches, check this book out. It's a great resource for how to live life with the least amount of stress to your back, and that can be addabtalbe for anyone.