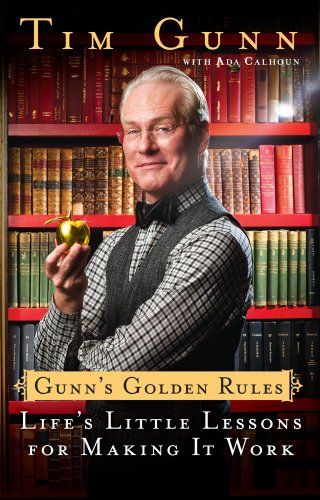 Title/Author:
Gunn's Golden Rules: Life's Little Lessons for Making It Work by Tim Gunn
Publisher/Year Published:
September 2010 by Simon Spotlight Entertainment
How I got this book:
From my local library
Why I read this book:
I love Tim Gunn from project runway and I liked his first book. I thought I would give this a try.
Rating:
5 stars
Tim Gunn. Tim Gunn is awesome. There. It just had to be said. He is probably the sole reason I started watching Project Runway during college (well that and Bravo's damn Saturday marathons). So it begs to reason that if Tim Gunn is awesome, his book would be so as well.
Yup! That certainly holds true in this case.
Gunn's Golden Rules is a nice little book filled with anectodes from Tim Gunn's life. And wow has he led an interesting life! They are all tied together throughout the chapter headings, each represening a rule Mr. Gunn lives his life by.
Though I don't know too much of the fashion world, each story he had to share about it was really interesting. Stories about horrid spoiled children to horrid spoiled fashion people are scattered throughout these pages. Sprinkled in are stories from Mr. Gunn's personal life, all of which are equally as entertaining!
Though his first book was more of a How To, the title is a little deceiving as this is more of a memoir bound by the thread of rules. I really liked it regardless of it being different than what I thought it would be.
I would recommend this book to people who like Tim Gunn, fashion, or just interesting memoirs. If that is not you then maybe you should pass, though it was a relatively quick read.
I am giving it five stars. It was entertaining and something I think I learned something from! So give it a shot. If anything you will leave knowing more about the workings of the fashion world, living in NYC and, oh yes, Tim Gunn :)