Top Ten Tuesday is a weekly meme started here at The Broke and the Bookish. Each week we have a specific topic for a top ten list. Link up, visit some new blogs and add to your ever growing TBR list. For future Top Ten Tuesday topics through February, go here!
We've all been told not to judge a book by its cover. But we all do it. We also judge books by their titles. I know that a lot of work goes into cover art - and so I think it's an acceptable factor in
your decision to spend $15-$20 on a book that it cover and/or title be pleasing. So here are 10
books that I've judged and bought based on their cover art and/or title. And whether or not that judging led me astray.


1. Brave Story by Miyuki Miyabe
Can we just take a few minutes to look at how gorgeous this cover is (this is the front and back - the art wraps around the whole thing). I cannot even tell you how many times I went to the store and just stared at this book. I sat there consumed with lust over how pretty it was. I didn't even really know what it was about when I finally decided that it had to sit on my shelf and be pretty. Thankfully the book is just as great as the cover.
2. The War of Don Emmanuel's Nether Parts by Louis De Bernieres
I stumbled upon this book at a library sale with no previous knowledge of the author. I read the title and giggled and then looked at the cover and smiled. Shrugged and thought, "eh 50 cents, why not?" It has turned out to be one of my favorite books this year. A review should find it's way on this blog some day soon.
3. Count Gieger's Blues by Michael Bishop
A similar story to the above, I picked this one up at a book sale based on the fact that there was a superhero on the front. Unfortunately my only thoughts on this book are "ughhhh". They can't all be winners.
4. The Strange Affair of Spring Heeled Jack by Mark Hodder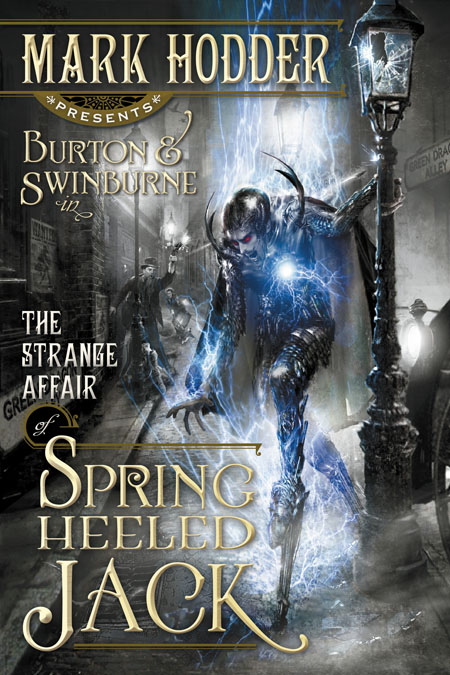 You should really take a second to go find a bigger version of this cover because it is REALLY cool. The book itself was okay - I didn't love it but I didn't hate it either. The cover of the sequels are just as cool, so I will probably end up reading them as well. Seriously though, look at that detail. That is a well done cover. Kudos.
5. A Long Long Time Ago and Essentially True by Brigid Pasulka
Didn't include the cover for this one because it was the title that actually drew me in. There is something wonderful about this title. I saw it in an advertisement and thought "well that's certainly intriguing" Thankfully I was lucky enough to get my hands on an ARC of it. It certainly is intriguing and it lives up to that title.
6. The Book of Flying by Keith Miller
Another book sale find (man I love them!) I think the title was what originally caught my eye. And there is something I really love about the cover - I'm not sure why because it's not particularly pretty or stand out, but I just really really like it. However the book is pretty and fantastic. He also has another book called "The Book of Fire" that I really want to read but I can't find it any where. If you can find it: read it, then give it to meeee!
7. Major Pettigrew's Last Stand by Helen Simonson
I definitely bought this book based on the title. I must admit it kept reminding me of Misses Pettigrew Lives for a Day which I adore - so even though I knew they had nothing to do with one another, I couldn't help but bring it home with me. The cover art isn't really my taste... but it fits the book. All in all it was a good judgement call.
8. The Dangerous Lives of Alter Boys by Chris Fuhrman
So this one technically might not belong on this list.... this was my favorite movie in High School (and is still on my top 10 to this day) and for a long time I had no idea there was a novel that it was based on. When I finally discovered the novel I was also pleasantly surprised by the fantastic cover art that went a long with it. And I think we can all agree on how great the title is. Really I just want people to appreciate everything about this novel (and movie!).
9. The Brief Wonderous Life of Oscar Wao by Junot Diaz
This book was on my to-read list forever because of its title. What a fantastic title! The cover is okay too.... but UGH. that is all. just ugh.
10. The Island of The Day Before by Umberto Eco
This one is still on my to-read shelf. I bought it because of the title, but the cover is pretty fantastic as well. I've heard mixed things about it by now, so I'm a little nervous to tackle it. But hopefully I did not choose poorly...
What about you guys? Which books did you buy based on the cover and/or title? Did your instinct prove to be correct? Be sure to link up below and share your top ten picks!