Hey awesome readers! Get to know The Broke and the Bookish Blogger's week continues with my installment. So sit back, relax, let us pull up a chair as the dining room proudly presents… sorry a little side tracked. Let's begin again.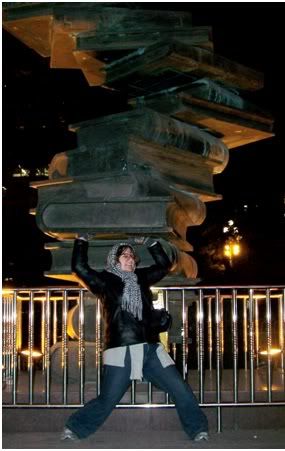 This is Julia. I'm 24 and I work as a traveling computer software installer at a company based near my hometown in Ohio (which has slides… the headquarters, not the hometown… though the hometown probably does as well, as it does have some parks). I enjoy singing, being sarcastic, and of course reading.
I feel like this is the part of the introduction where I would point you to my blog. Currently it is, shall we say, in a state of hibernation? Unfortunately, even though I have had my job a year (this week! We started the blog and I started my job the same day!) I am still trying to figure out that work/life balance thing. Anyway, my
Goodreads account
is way better for now. And I occasionally freak out about book like stuff on twitter (
@bambbles
). Okay. Down to the good stuff shall we?
1. What does your bookshelf look like and how do you organize it?
I think my preferred method of organization can be called "shove it if it fits there" As of right now I am living with my parents to save some money, so I have one room for me. One relatively small room with, at the current count, three bookcases (a fourth is in the garage because the only other space I'd have in the room is in front of the door. Secret passageway time, maybe?).
I wish I could show you pictures. Unfortunately, I am on the road in Kalamazoo and there are no bookshelves in my hotel room! Quite a misfortune.
2.How do you balance reading and school/work?
Well, it took a while but I have struck a small balance with the reading (not so much with the blogging.. and on time delivery…). It involves weekend reading a good deal. The best part about traveling though is the airplanes/airports where all I can really do is read. Plane rides are best past with my Nook or pre-Electronic device reading material (magazine, book-book, Skymall, etc.)!
In fact this afternoon it was beautiful here and I had some time to myself and just wandered, found a park and took out my book. It was bliss. I finished it today so tomorrow I may try and find some cool used book store. (The book was
The Golden Compass
if anyone was wondering).
3. Most awesome thing about books and social media
So I have had some pretty interesting experiences since merging my love of reading and love of computers with authors' twitters and/or facebooks. I absolutely adore following authors on both media, especially chatting back and forth on twitter (it's happened! I die each time it does!) But I have one stand out squeal moments that kept me glowing for weeks.
It happened on Facebook. I adore romance novels and was following
Julia Quinn
, one of my favorite authors (sidebar: She friended me! I have no idea to this day how she found me but I just about died on the spot when I got that request… this was before fan pages). Anyway, she posted about how she had some of her books translated in different languages to give away to library's foreign language sections and if you were a librarian to contact her. Not being a librarian I was chagrined, so I posted "Any way I could sign my library up? I am trying to keep my Chinese skills fresh and would love to do that by reading one of your books" She messaged me and told me she would send me a copy directly. I was floored. I still have the business card with the handwritten "Enjoy!" written on it along with the book! So awesome!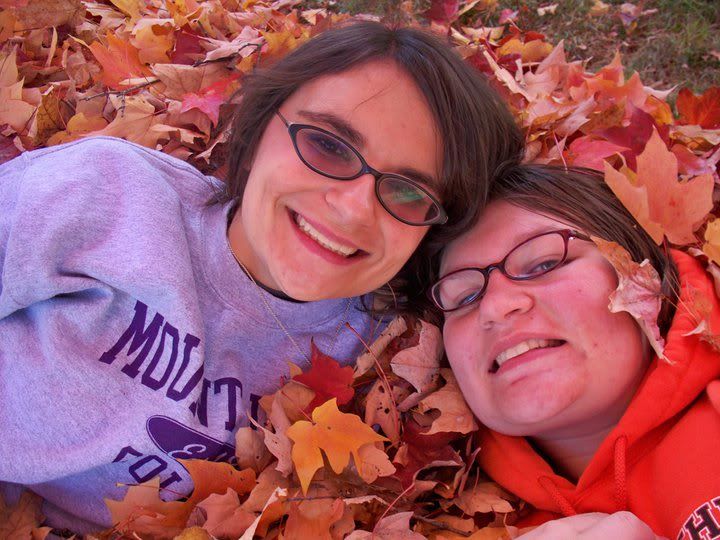 4. Do any of your friends, family or significant other share your passion?
Yes, actually. My sister reads quite a bit and is a great companion for book releases, trips to the bookstore, and just in general fan-girling. She is the one picture with me. I am in the orange.
My parents really cultivated my love for reading by reading to me every night starting super young. I loved books for forever. There is video footage of me at my second birthday opening presents. I get a cabbage patch doll, put it aside, new dress, into the pile, book about how milk is made, start reading immediately! My dad is a big reason I use the library as much as I do. I think it was Wednesday that was library day. Every week after school we would go and just leave with heaps of books.
My cousin was the one who introduced me to romance novels around when I was 12 or so. A lot of my close friends read and I get some great recommendations from them. So I guess what I am saying is it is strange for me when I meet and interact with someone who doesn't like reading. Hearing that is a foreign to me as someone telling me they don't like fresh air.
5.Do you have any bookish quirks?
This is kind of weird, but I often finding myself thinking of what a certain character would be like if s/he existed in the real world. Would their magical characteristics carry over into this world? How would they adapt to things like microwaves? Would they stay or want to go back? Could I convince them one way or the other? I thought a lot about logistics because I used to dream of creating a machine that when programmed correctly could take a character and take them out of the book. I mean, seriously. Who wouldn't love to talk to Mr. Darcy?
On the flip side, I think of how I would adapt in the world of the book. Questions like what house would I be in, what would my daemon be, how would I survive in the Hunger Games? But I don't think that's as unique :)
Random list time:
1. In high school, I had a Geocities page for characters in books/movies I thought were… lustable and made badly photoshopped shrine for each. Sadly, Geocities is no more, but I will link you to
Oocities page
that has the header image and the text. I was particularly proud of
Aragorn
.
2. I like to create musical numbers out of stupid or everyday scenarios. I have been known for songs that range from "I am unloading the dishwasher" to a parody on
A Funny Thing Happened on the Way to the Forum
's song "Everybody Ought to have a Maid" entitled "Everybody Ought to have a Snape"
3. I like really spicy food, a benefit from living in Chengdu, China followed by Seoul, Korea.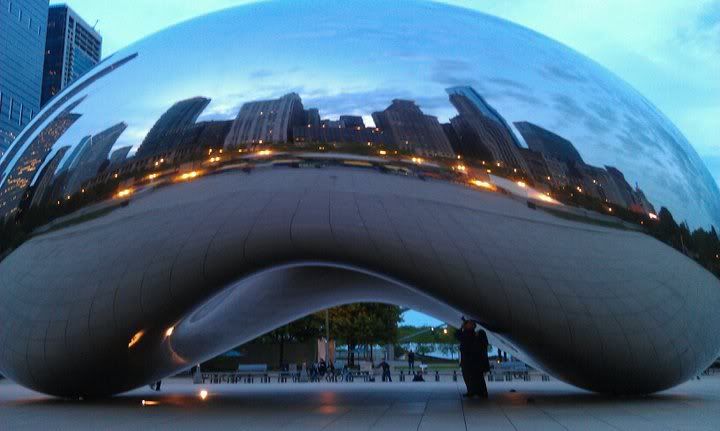 4. For a basic English class in college, I once wrote a research paper on romance novels. I got an A.
5. I like photography and traveling. Combing the two you get awesome things to take picture of. Like the Chicago skyline.
NOW THE GIVEAWAYS:
I reviewed both of these for the blog and wanted to share the "love".
First, we have a book from the romance genre that
The Smart Bitches
have said is the book you have non-romance novel readers start off with if they are curious,
The Spymaster's Lady
. Don't worry. It has been reprinted with a less…chesty cover. So if you are interested in dipping your toe and want to do it cost free to you, enter the contest.
The second book is
The Science of Kissing
. This was a really interesting non-fiction book that goes into the science behind the world's favorite pastime. Really engaging and worth the read.
Rules:
+ You don't have to be a follower but since it IS our blogoversary and we are celebrating our time in the blogosphere...we'd LOVE for you to check out the blog!
+ Open to International folks
+ Giveaway ends two weeks from today which is
July 9th
Fill out
this form
. You are able to enter for both prize packs! Hope that was a enjoyable extra special glimpse into my life.