It's the end of the month again, and that means I get to see how little progress I have actually made in paying off my student loans. You would not believe how happy I get to see .65 paid off the principle on a thousand dollar loan. Let's just say there is dancing.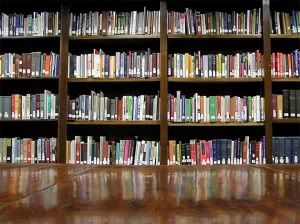 When these days come around, I go back to my college ways and tighten the purse strings. But what about my monthly book fix? Well, over my college education I have perfected ways of getting books on the cheap, and my fellow broke students, I figured I would pass on my wisdom. And really, what do we do better here then lists?
Libraries
I was lucky that libraries were instilled in me at an early age as something totally and completely awesome. We had a day of the week dedicated to going to the library. My dad, sister and I would leave loaded down with loot: books, music, my favorite two part VHS of
The Sound of Music
. There was actually a point where they let you check out puzzles, too.
Everyone knows you can get books at libraries, but the awesome part now is that you are no longer restricted to the books that are physically available at that library. Now, I am not a librarian so I am sure there are quite a few readers of this blog who can tell you exactly all the ways that a library can get you a book that you want. I do know that there are more and more libraries building up digital stores of ebooks and audiobooks that you can download directly to your computer as long as you have a valid library card.
Here is Northeast Ohio's example
. This was my life saver in my dingy college town. Another thing I learned to rely upon was the link between the college library systems. I had used it before for research books I needed, but it turns out they have them for pleasure reads as well.
Libraries are 100% awesome and I am sure I could go on and on for a full blog post, but I will spare you.
Free ebooks
There are so many free ebooks to be had. Barnes and Nobel have
a whole page
dedicated to the free Nookbooks. Even if you don't have an eReader, you can take advantage of this by downloading and reading them on one of their free applications. I'm pretty sure other eBook sites do something similar as well. Plus anything in the public domain you can find in multiple places scattered about the internet (like
Project Gutenberg
). I've also heard of using Google Books!
Goodreads giveaways
I don't know if many of you new readers know, but this blog had its
inception
at
Goodreads
and thus that site holds a special place in my heart. But the real reason I started actively using it was to enter in all of the bazillions of first reads or giveaways that they do on a daily basis. There are
so many listings
that I can barely keep up with browsing through which ones I may like to try and win. Also,
LibraryThing
does something similar with their
Early Reviewers
program. This is a great way to build up your collection and find new and interesting stuff to read.
Blog giveaways
Speaking of new and interesting stuff to read, there are a TON of blogs out there (I bet none of you knew that... end sarcasm) and I'd say at any given moment 1 in 3 is hosting some sort of a giveaway. Some of them have like max 20 entrants which gives you a 5% chance of winning! That's pretty good stakes for a drawing. And there are so many blogs from so many outlets, you should be able to find something that interests you.
Oh and remember how I mentioned that completely made up 1 in 3 statistic?
Our giveaway of Dark Mirror runs until April 1st.
Book Sales
Remember how I mentioned how much I love my library? Well there is one thing that I truly love and that is the second Saturday of every month they have a book sale where I come away with a reusable grocery bag full of books all that cost me max 25 cents each.
Then there are garage sales, thrift stores and I remember hearing about a mythical barn somewhere in mid-Ohio that was full of rows and rows of dirt cheap books. I personally enjoy
Half Price Books
which now is starting to have a showing online. I can get my $6 romances for $3!
So these are my tips and tricks that I have used many a time over the years. Now off to see if I can find anything on that barn…