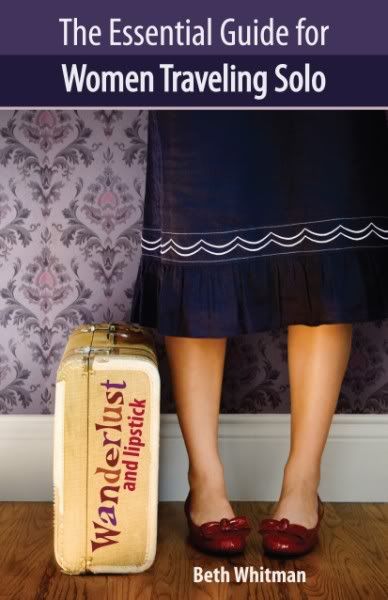 Title/Author:
Wanderlust and Lipstick: The Essential Guide for Women Traveling Solo
by Beth Whitman
Publisher/Year Published: 2009 by Dispatch Travels
How I got this book: Checked out of the library
Why I read this book: I love traveling. I am at that point in my life where I have no one to travel with me. I am a woman.
When I saw the title of this book, I was in a particular funk. "Woe is me! I have no boyfriend to force to go to exotic places with me! What is a poor, soon to be out of college single woman with the travel bug going to do?" Then the heavenly search engine gods led me to this. "Hurray!" I cried, "I am a woman, I am solo, I have wanderlust! I must have this essential guide!"
I don't know if I had it in mind that this was going to be the holy grail of travel experience, but upon hastily flipping though the pages right after checking it out of the library, I found myself slightly grounded. "But wait, I know all about passports and visas. I know how to pack. I call shenanigans!"
While reading book, I found myself skimming over too many of the sections for me to have learned as much as I had hoped. Most of it is common sense for the seasoned traveler, even if you have never gone solo. There are some nuggets of good information, including a glossary of really handy websites. I found myself gaining the most useful tips from the anecdotes provided by women who have been there and done that. I never knew much about getting flown out of a country for medical treatment, but hearing the woman's story first hand about how it all turned out and the important role her travel insurance played is going to stick with me.
If I had to resubtitle this book it would be "The Essential Guide for the New Woman Traveler" because that's really what it is. I would highly recommend this book if you are new to the international, and maybe even domestic, travel scene. It's not a bad book, just not what I was expecting as someone who though not alone has already done it.
I give it three and a half stars.

5FWEYGU86RAX