F
or future Top Ten Tuesday topics & info on how to participate, click here!
This week is FREEEBIE WEEK! *jazz hands* We chose to talk about 10 books we are dying to reread but...keep putting off because NEW BOOKS WOO.
One of the perils of book blogging is that, thanks to constantly feeling obligated to keep up the flow of new reviews, it's almost impossible to squeeze in a reread when you have so many unread books on your shelf. Here are a few books that your favorite broke bloggers are dying to reread, but just haven't had a chance to yet!
Bridget's Picks
1.
The Magicians - Lev Grossman
. My husband, after a year-plus of me annoying him, has finally read the first book in this series. Naturally, it made me want to snatch the book out of his hands and read it again myself, but I didn't, because I'm a nice person.
2.
The Ocean at the End of the Lane - Neil Gaiman
. Shortly after reading this for the first time, I let a friend of mine borrow it...and I haven't seen it since. This actually isn't a bad thing, because that same friend doesn't still have it—she's passed it on to several others and I'm honestly not quite sure where it is at the moment, but everyone who has read it has loved it. But I do want it back!!
3.
Gone Girl - Gillian Flynn
. I actually
just
got this one back from my mom, who made it about 3/4 of the way through before putting it down for a year and making me tell her the ending. In the meantime, I've read her other novels at least twice each.
Gone Girl
is sitting on my kitchen counter and it's calling my name, but so are all the other books I got for Christmas and my birthday and at BEA...
4.
The Bell Jar by Sylvia Plath
: This used to be one of my favorite books in high school and college and I haven't read it since! Curious to see how it holds up!!
5.
On the Road by Jack Kerouac
: Again, another high school/college fave book but I want to check it out again now that I'm 30 to see if I can say that it's still a fave.
6.
Fangirl by Rainbow Rowell
: To be honest, I'd love to revisit both Fangirl and Eleanor & Park because I loved them both so much and I'm just craving a reread. They are just two favorites that deserve to be reread!
7.
Where She Went by Gayle Forman
: I reread If I Stay last year and this year hope to reread Where She Went because it's honestly one of my favorite books ever!
Lori's Picks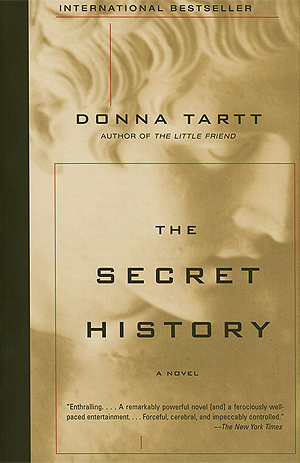 8.
The Secret History by Donna Tartt
: I flew through this book when I first read it! It was a great read, but now that I know what happens, I don't know if I can read it again. So, not only would I like to read this one again, I want to forget what I know!
9.
Catch-22 by Joseph Heller
: I read this one my senior year of high school and LOVED it. I've been wanting to reread it ever since. May have to make time soon.
10.
Gone With the Wind by Margaret Mitchell
: I was really trying to not include this one, but the truth of the matter is that I miss this book. It was my absolute favorite, but I haven't read it since high school.