Top Ten Books For People Who Liked The Other Boleyn Girl
Hey everyone, this is Julia again. Getting sick of my lists? I hope not! Today's Top Ten Tuesday is to help those of you who need some recommendations based on a particular book. The linky this week is going to be a smorgasbord of awesome recs, so if you are looking for that next book to read, today's TTT is for you!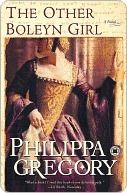 I decided to chose
The Other Boleyn Girl
for my list. I read this book ages ago, and it was the only book of the series or by Philippa Gregory that I have read. Regardless of that, I have decided this based on the fact that 1)lately I have been reading a lot of historical fiction (or epic fantasy with a hint of historical fiction) and 2) I wanted to showcase some novels that featured stories of women in history. It may not be the best list for this book, but it consists of books that I have read and enjoyed. Maybe you will as well.
PS. All links lead to
Goodreads
1. The Jewel of St. Petersburg - Kate Furnivall
Oh, do I love a good dose of Russian historical fiction. Have you ever felt connected to a certain part of history, almost like you may have spent a past life there or something? That's how I feel about Romanov Russia! Anyway... The Jewel of St. Petersburg is a story of a woman pressured by society to marry a many of good breeding who fits in their lives of privelage, but secretly (or not, I honestly can't remember how vocal our heroine is) yearns for something else. It's Romanov Russia so we all know what happens...
2. Mistress of Rome - Kate Quinn
Let's hop back in time to another life of privilege but a different type of subjugation: Rome! This follows a couple throughout their lives as the patricians (ah.. ish) of Rome. I remember being sucked into this story and really enjoying it though I have not as of yet continued the series. It's in my ginormous to read pile! This is another time that I feel connected to. Especially when I was walking through the Roman forum in Italy...
3. The Romanov Bride - Robert Alexander
Who am I kidding, back to Russia! This story, though I read it ages ago, sticks with me as we follow some dramatic changes in our heroine's life. If I remember correctly, this may have been based on an actual person. Even if it wasn't, it stuck with me enough to make me think that it was. I enjoyed this more that I thought I would at the time and read it in a day or so.
4. The Blood of Flowers - Anita Amirrezvani
17th Centaury Persia. A young girl torn from her future and forced into one she could never imagine. We follow the girl's twists and turns as she learns the craft and art of rug making, all while watching her struggle to live the life lot has chosen.
5. Snow Flower and the Secret Fan - Lisa See
Now let's pop over to China while we are in Asia. Back into the time of foot biding and daughters meaning nothing but mouths to feed, we have the touching story of two girls whose lives are intertwined. I loved the feel of China I got from this story. It reminded me of the countryside there. The language of women was fun to read about in practice. This book is full of delight.
6. The Red Tent - Anita Diamant
Let's get biblical! The story of the sister of Joseph (the one with the technicoler dream coat) and her mothers as told over the course of her years. I loved how being the only daughter she carries the secrets of The Red Tent and loves each of her mothers for teaching something different.
7. I Capture the Castle - Dodie Smith
Hop on over to the 20th century England, where two sisters are trying to marry their way out of a poverty they were not born into. Well, on of them is at least. This is a great coming of age story. Highly enjoyable.
8. Four Sisters, All Queens - Sherry Jones
I just finished this one this weekend, and a full review will come, but this was such a good book. Four sisters in the time of the Crusades, each with different aspirations all dashed by the circumstances of their lives. Real history dashed with emotion sets this one up to be a good read. Family comes first.
9. Gone With the Wind - Margaret Mitchell
Moving on to the classics, Gone with the Wind is the first book to make me cry for literally tens of pages. You grow with Scarlett and see her be an occassionally nice person... not often but enough that she get's your sympathy or at least your empathy. I remember thinking that this book made me see the other side of the Civil War.
10. Little Women - Louisa May Alcott
Let's end it on one of my favorite historical fiction books about women, Little Women. Who could not love Meg, Jo, Beth and Amy? Who did not want to see them succeed (or sometimes fail)? These girls jump off the page in their reality. And Laurie will always be my first literary crush :)
I hope you enjoyed my list! Now let's look at yours. Link them up below!
- Julia