I read for a variety of reasons. Occasionally, one of those reasons is "to be anywhere but here." Usually that "here" is some event that I do not want to be at. Lately, that "here" has been sitting with a beloved, ailing relative. (I want to be there for my family, of course, but I am sure everyone would agree that it is not a desirable situation to be in)
My normal impulse with reading is to pick up a nice, chunky novel. I love to disappear into a new world and learn about new things, experience new things, and get new perspectives on life. I love immersing myself and not coming up to breathe for hours. Unfortunately this type of reading is not conducive to sitting in a medical facility of one type or another. So I have to be able to dive in and come up for air pretty regularly.
It took me a disappointing amount of time to realize this. Several weeks I spent not reading. I would stare wistfully at the lovely novel in my bag, wishing for a spare hour, even, to dive in. Alas, no!
Finally, a couple of weeks ago, I discovered the trick. Essays are good. I was very surprised at how quickly I was able to read
An Everlasting Meal
. Novellas are also good--all the taste, half the calories--I was able to devour a re-reading of
Breakfast at Tiffany's
. Non-fiction seems promising, though I haven't tested this theory.
Here are a few of the books I've been reading:
This Is the Story of a Happy Marriage
by Ann Patchett I love this collection! At least, what I've read of it. Patchett's collection includes a variety of topics--writing, houses, pets, and others. This collection of essays makes me want to try out Patchett's novels. I've bought a couple, but I haven't had time to dive in yet. I totally love her essay on her writing career, which covers how she got started, how she made ends meet, and how she finally got her big break. It was very inspiring and eye-opening. I need to go back and do a closer reading of it so I can learn and make my own path.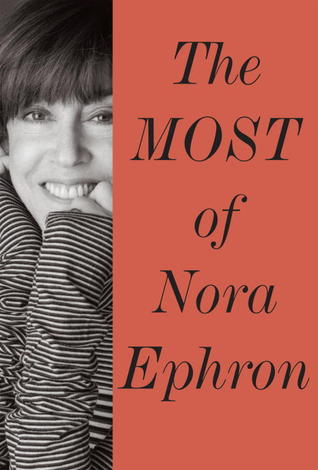 The Most of Nora Ephron
by Nora Ephron I've only read part of this one. This is a wonderful collection of Ephron's writing--pieces on journalism, feminism, portraits of celebrities, a screenplay, and one of her novels. Her pieces on journalism are absolutely fantastic. She lived such a wonderful life. She saw a lot of interesting things and wrote some fascinating pieces. I am really excited to read the wide variety of pieces, including the novel--though I probably won't read that terribly soon. It is a really large volume that won't fit into all of my purses, so I can't always bring this one with me.
The Break of Day
by Colette I haven't started reading this one yet. It's in my purse to start today. Apparently, this book is very lyrical. More vignettes and thoughts, though the volume is classified as a novel. But I am really excited to see what it holds. Colette is one of those writers whom I know I will love once I really get into their work. She was truly revolutionary for her time.
I may try some short stories the next time I run home. I am not typically good with short stories, but maybe the right collection will do the trick. I'm thinking the short stories of Gabriel Garcia Marquez. (Or maybe his collection of novellas)
I'm also going to take the plunge and try a biography. Those have the magic quality of being easy to get into and out of because you don't have to remember a plot or characters. But of course you have to find the right subject. An online acquaintance and I recently discussed reading
Secrets of the Flesh
, a biography of Colette, in the near future. I am looking forward to it!
What do you read when you are short on time? I'd love some suggestions!