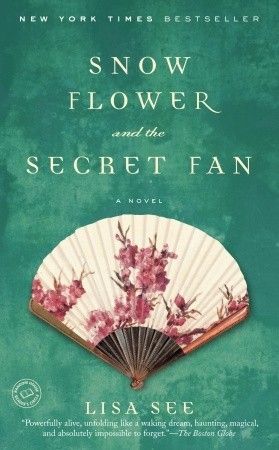 Title/Author:
Snow Flower and the Secret Fan by Lisa See
Publisher/Year Published:
February 2006 by Random House (first published January 2005)
How I got this book:
I picked it up off at Borders' going out of business liquidation stop 2 out of 3.
Why I read this book:
This book has been on my Goodreads shelf since December 2007, the month I joined
Rating:
5 stars
Goodreads Summary:
In nineteenth-century China, in a remote Hunan county, a girl named Lily, at the tender age of seven, is paired with a laotong, "old same," in an emotional match that will last a lifetime. The laotong, Snow Flower, introduces herself by sending Lily a silk fan on which she's painted a poem in nu shu, a unique language that Chinese women created in order to communicate in secret, away from the influence of men. As the years pass, Lily and Snow Flower send messages on fans, compose stories on handkerchiefs, reaching out of isolation to share their hopes, dreams, and accomplishments. Together, they endure the agony of foot-binding, and reflect upon their arranged marriages, shared loneliness, and the joys and tragedies of motherhood. The two find solace, developing a bond that keeps their spirits alive. But when a misunderstanding arises, their deep friendship suddenly threatens to tear apart.
Thoughts:
I added this book to my to-read list back in December 2007 shortly after joining Goodreads. Now, almost four years later, I finally can say I read it.
I dont really know why it took so long for me to read this. I live relatively close to the library, thus it is really easy to go get a book. I would see it at the top of my to read queue and think "I will get to it." On what would be my second to last trip to Borders (the last to MY Borders), I wasncombing through what was left to see what I could find, when I saw this book. I instantly added it to my pile.
From the first words I was engulfed in the story. This is a tale of Lily and Snow Flower. It's a tale of their lives in rural, ancient China. Foot-binding... Subservient wives... nu shu (the Chinese secret language of women)... Confucian principles... all that jazz.
There is not really much more to say than that, except one thing. I think there was a reason it took me so long to read this book. In 2007, when I added this book, my interest in China was just beginning. I had yet to go over there and experience the country, see nu shu writing for myself, meet people who almost certainly were alive at least before the cultural revolution if not even farther back (seriously this one woman I met had to be in her late 80s early 90s). I was still in college when I added the book. I would not have appreciated it the same way.
Now, I am on the precipice of my life, out of school about to start my life as a grown woman. It may be a different time and place but I felt like I could relate to Lily and Snow Flower on that level. Our worries are the same; our hopes, dreams align. It touched me more, I believe, to read this now then anytime earlier.
Having said that though, one thing that did bug me what that her name was "Snow Flower". In Pinyin, which is the alphabet that westerners use to translate the sounds characters make, her name would be XueHua or HuaXue depending on the order... I understand why Ms. See did not make it XueHua as xue would be hard to read with the english sounds, but it just seemed strange every time I thought about it. I don't go around telling people in foreign languages that my name is "Downy Beard" or "Youthful"... "Princess of Rome" may have a ring to it though...
Overall it was a great book. I heard that there was a movie that got limited release in the US, but apparently it didnt follow the book very much. So if you saw the movie, give the book a try.